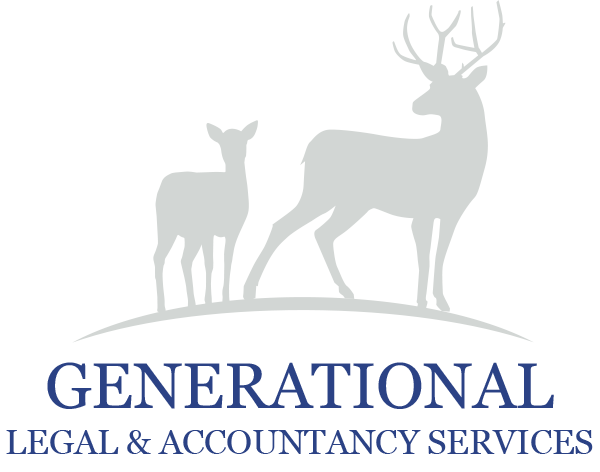 Now more than ever, its crucial to have our accounting and legal affairs in order. At Generational Legal & Accountancy Services, we serve the working and retired, the employed and self-employed, professionals and business owners – and work closely with our sister divisions and carefully chosen panel of specialists to offer a truly independent and comprehensive service.
Will Writing and Preparation
Everyone should have a Will, but it is even more important if you have children, you own property or have savings, investments, insurance policies or you own a business.
If you don't have a will when you die, your money, property and possessions will be shared out according to the law instead of your wishes. This can mean they pass to someone you hadn't intended – or that someone you want to pass things on to ends up with nothing.
Nobody hopes for the worst… but you can prepare for it.
Lasting Power of Attorney (LPA)
Arguably one of the most important and simple pieces of planning a family can put in place.
If you were to lose mental capacity without an LPA in place, decisions surrounding your welfare, finances, and estate will be made by an individual appointed by the Court of Protection – leaving your family powerless to act on your behalf.
Our specialist panel members
ASSET HARBOUR
Mortgage, Life Insurance & Estate Planning Specialists
Asset Harbour are one of the leading award-winning independent mortgage specialists in the South of England and have been finding the most suitable mortgage deals for our clients in Hampshire and the Surrey area for over 30 years.
Let Us Do the Work
With the vast amount of mortgage products on the market today, it is difficult to know where to start. We act on our client's behalf and can recommend mortgages from a whole of market panel, including those products normally available only by direct approach to lenders. Our experienced Mortgage Advisors can also search the market to seek out the most appropriate mortgage specific to a client's needs and circumstances.
Mortgages
Life Insurance
Health Insurance
Business Protection
Building & Contents Insurance
Wills & Trusts
Lasting Power of Attorney
SANDISON LANG MEDICAL ACCOUNTANTS
Chartered Members of the ICAEW
Sandison Lang are specialist chartered medical accountants helping medical practices, hospital doctors, GPs and dentists. Their longevity and success has been achieved by providing a full range of accountancy and taxation services tailored to meet the particular requirements of medical professionals.
They build close relationships with their clients and provide proactive advice to help them control and manage their medical business or practice, to plan ahead and mitigate their taxation liabilities while, at the same time, ensuring compliance with accounting and taxation legislation relevant to them.
Services include:
Taxation returns for both business and personal
Tax planning and business advice
Payroll and company secretarial
Financial management and year end accounts
VAT returns
Business start-ups
ROBSONS ACCOUNTANTS
Chartered Members of the ACCA
Robson's Accountants was established in 1969 and today, continues to build on their enviable reputation for providing a variety of accountancy, taxation, and business services to a range of clients.
With their wealth of experience, we pride ourselves on delivering an unparalleled service to all clients, whatever their size or sector.
Services include:
Taxation returns for both business and personal
Tax planning and business advice
Payroll and company secretarial
Financial management and year end accounts
VAT returns
Business start-ups